Credit Repair Videos
---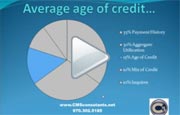 Length of Credit
1:41
Your length of credit is how long you have had credit. At face value, this seems like more
something you couldn't really do anything to fix. However, there are ways you can hurt yourself here. If you close out your older cards, even if they have higher interest rates, it will hurt your score. The credit scoring model has no memory or credit cards you close: if you close out that fifteen year old card you will get no credit for it!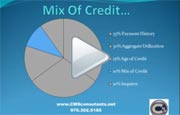 Types of Credit
2:34
Types of credit include revolving, installment and mortgage loans. By having more
different kinds of credit open, you show creditors that you are responsible and able to handle different kinds of responsibilities.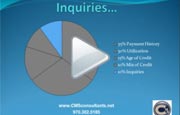 Inquiries
4:37
Inquiries are marked on your credit report when you ask for new credit (i.e. when you more
apply for a home loan). Inquiries made by yourself or for unsolicited offers do not count against your score, but are shown on your report. It is important to note than when searching for a home you are allowed unlimited inquiries over a one month period since it is assumed you are rate shopping.